Publishers Charles Scribner's Sons, authors / Campaigns of the Civil War 1883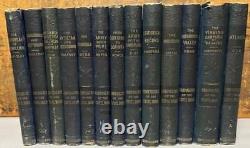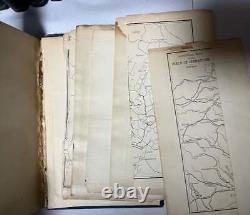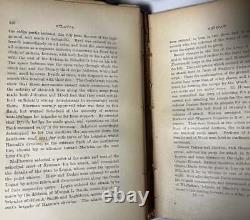 Campaigns of the Civil War. Condition is poor to good for the set. Three volumes described below are in poor condition. Most are first editions with all the advertisements. Hinges are intact for all the volumes except the Virginia Campaign.
No writing, labels, or stamps found inside the volumes. Most of the spines have faded numbers in white on the lower spines. There are no indications that this set was ex-library. Set does not include the 3 volume history of Naval Campaigns.
Titles and short descriptions as follows: 1. The Outbreak of the Civil War by John G. 220 pages, [4] pages of ads. Shelf wear to the binding. From Fort Henry to Corinth by M. 204 pages, 4 ages of ads.
The Peninsula: McClellan's Campaign of 1862 by Alexander S. 219 pages, 4 pages of ads. Shelf and edge wear to the cloth.
The Army Under Pope by John Ropes. 229 pages, 4 pages of ads. Shelf and edge wear to the hardcover. The Antietam and Fredericksburg by Francis Winthrop Palfrey. 228 pages, 4 pages of ads.
Breaks in the text block. Chancellorsville and Gettysburg by Abner Doubleday. 243 pages, [4] pages of ads. The Army of the Cumberland by Henry M. 289 pages, 4 pages of ads. The Mississippi by Francis Vinton Greene. 276 pages, [4] pages of ads.
Edge wear to the cloth. 274 pages, 5 pages of ads.
The March to the Sea Franklin and Nashville. 266 pages, 4 pages of ads.
The Shenandoah Valley in 1864 by George Pond. 287 pages, 4 pages of ads. Shelf and edge wear to the binding. The Virginia Campaign of 64' &'65 The Army of the Potomac The Army of the James by Andrew Humphreys. Maps loose with several tears, splits, chips.
[SUPPLEMENT] Statistical Record of the Armies of the United States by Frederick Phisterer. Americana Books has been in business since 1993. We are active members of the Antiquarian Booksellers' Association of America (ABAA), Independent Online Booksellers Association (IOBA), the International League of Antiquarian Booksellers (ILAB), and the Georgia Antiquarian Booksellers Association (GABA). We sell books in all fields but specialize in the subject of Americana. We offer an assortment of books, ephemera and material relating to the exploration and expansion of America, Native Americans, pioneer narratives, personal memoirs and reminiscences, political movements, law, genealogy and local histories, innovations, conflicts, scandals, oppression, inspiration and many other related topics.
We hope our customers will share our enthusiasm and passion for history and will enjoy doing business with Americana Books. Dave Hamilton, Americana Books ABAA. All books are guaranteed as described. This listing was created by Bibliopolis.