William Chillingworth Folio 1684 Religion Of Protestants English CIVIL War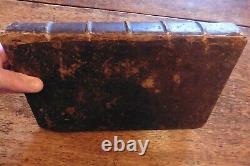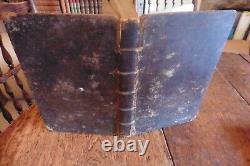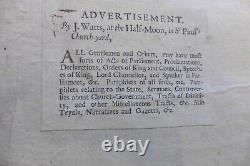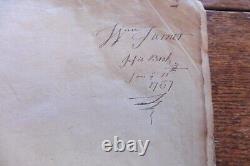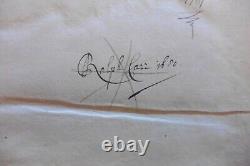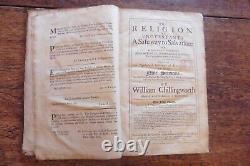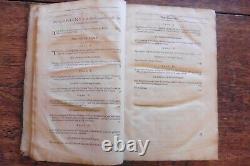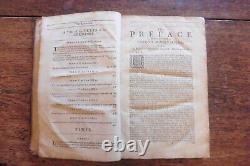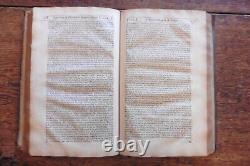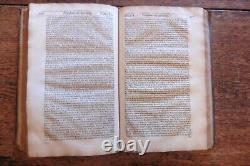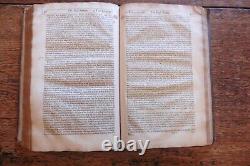 BY WILLIAM CHILLINGWORTH : The Religion of Protestants A Safe way to Salvation: Or, An Answer to a Book Entituled Mercy and Truth, or, Charity maintained by Catholicks : Which pretends to prove the Contrary. Fifth edition, Crook and Harper, London 1684. Contemporary full sheepskin, worn corners, joints cracked but the boards are quite well attached. Printer's advertisment label pasted to endapper; blank endpapers sl loose, marginal browning throughout, slight marginal staining to last part of book, lacks the rear blank endpaper. Overall a Good copy in its contemporary binding. William Chillingworth (12 October 1602 - 30 January 1644) was a controversial English churchman (WIKI): He was born in Oxford, where his father served as mayor; William Laud was his godfather. In June 1618 he became a scholar of Trinity College, Oxford, of which he was made a fellow in June 1628. He gained a reputation as a skillful debater, excelled in mathematics, and also became known as a poet. He associated with Sir Lucius Cary, John Hales, and Gilbert Sheldon. Interested in religious controversy and not yet in orders, Chillingworth took on the Jesuit John Percy (alias "John Fisher").
Percy succeeded in converting Chillingworth, and persuaded him to go to the Jesuit college at Douai, in 1630. There he wrote an account of his reasons for leaving Protestantism, but kept in touch with Laud. In 1631, however, he thought again, and left Douai. He did not immediately return to the orthodox positions of the Church of England, but was drawn into controversy with Catholics: with John Lewgar, John Floyd, and in a disputation with Thomas White before Lord Digby and Sir Kenelm Digby.
His theological sensitiveness appears in his refusal of a preferment offered to him in 1635 by Sir Thomas Coventry, Lord Keeper of the Great Seal. He was in difficulty about subscribing the Thirty-Nine Articles.
As he informed Gilbert Sheldon, then Warden of All Souls College, Oxford, in a letter, he was fully resolved on two points: that to say that the Fourth Commandment is a law of God appertaining to Christians is false and unlawful, and that the damnatory clauses in the Athanasian Creed are false, presumptuous and schismatical. To subscribe, therefore, he felt would be to subscribe his own damnation. His major work was an intervention in another controversy, undertaken in defence of Christopher Potter, Provost of The Queen's College, Oxford, against the Jesuit Edward Knott. Potter had replied in 1633 to Knott's Charity Mistaken (1630), and Knott retaliated with Mercy and Truth, which Chillingworth attempted to answer. Knott brought out a premptive pamphlet tending to show that Chillingworth was a Socinian.
Chillingworth wrote The Religion of Protestants while staying at Great Tew, owned by Lucius Cary (by then Lord Falkland). Laud, now Archbishop of Canterbury, was anxious about Chillingworth's reply to Knott, and at his request it was examined by Richard Baily, John Prideaux, and Samuel Fell, and published with their approval in 1637, with the title The Religion of Protestants a Safe Way to Salvation.
The main argument is a vindication of the sole authority of the Bible in spiritual matters, and of the free right of the individual conscience to interpret it. In the preface Chillingworth expresses his new view about subscription to the articles. This, in my opinion, is all intended by subscription.