Marvel Comics Civil War, Civil War II HugeLlot Full Runs Hi-Grade/68 books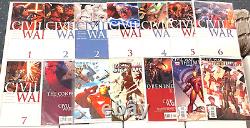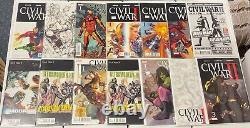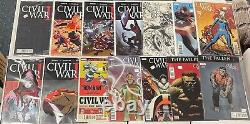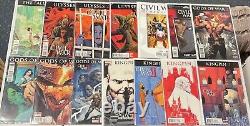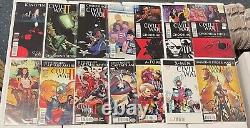 This is a huge lot of Civil War/Civil War II and related Civil War comics from Marvel Comics. Included in this lot are Civil War#1-7(a variant of issue 2 included), Opening Shot Sketchbook, CW The Confession, Cinematic Guide to the Marvel Universe-Captain America Civil War, Civil War Battle Damage Report, Civil War The Initiative One-shot(1st and 2nd print copies), Civil War II#0,1-82 variants of issue#0, 9 variant copies of #1, extra variant of issue#3 & 6, two extra variants of issue#7, & 4 variants of issue#8. Also included: Civil War II The Fallen#1 (two extra variants), Civil War II Ulysses#1-3, Civil War II The Chronicles#1, Civil War II Gods of War#1-4(plus #2 variant), Civil War II Kingpin#1-4(+ variant#2), Civil War II Choosing Sides#1-6(+ variant on #6), Steve Rogers Captain America#4,5,6, A-Force#8, Civil War II Amazing Spider-man#1 & Civil War II X-men#1. Some of these variants are ratio variants 1:10. Note: This is a hi-grade lot vf+ to NM minus.
We list all comics as VF to NM because everyone has their own grading guidelines and many are different from each other. Most of our items are NM but to protect us we list VF to NM so buyers can determine with our photos their own grading thoughts. Thank you for your understanding. We are a 7,000 square foot comic book entertainment store located in Southwest Indiana in Evansville.
We have been in business for over 28 years and strive hard to achieve a high level of customer service. GET IT NOW BEFORE ITS GONE!