1641 BLESSED PARLIAMENT Government GRIEVANCES AGAINST CROWN English Civil War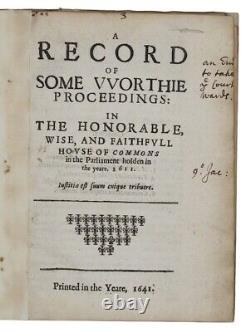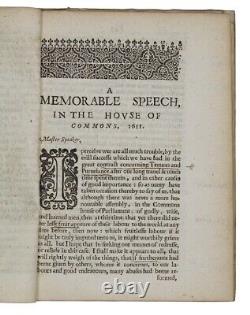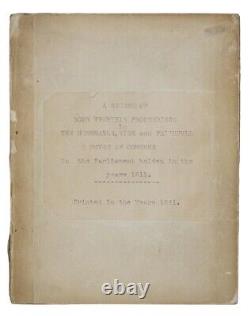 A record of some worthie proceedings: in the honorable, wise, and faithfull house of commons in the Parliament holden in the yeare, 1611. Justitiae es suum cuique tribuere. , Printed in the Yeare, 1641. Later paper boards, typed paper title label to upper board. Rubbed, with loss of spine covering. Small marginal hole to title, with underlining, manuscript marginal glossing and cross-referencing to legal references throughout, slightly shaved. A review of the grievances of the kingdom, chiefly against the crown, aired in Parliament in 1611 following the King's New Year's Eve proclamation dissolving the fractious assembly, which came to be known as the'Blessed Parliament', re-issued in 1641 amidst the breakdown of relations between Parliament and the Crown that ultimately led to the English Civil War. The sparse manuscript notes added to this copy pay particular attention to the section marked in the contents as'a petition for the parliaments libertie'.
We offer a wealth of antiquarian books, specialising in early and hand-press printing - but not excluding all others! We are proud and active members of the ABA (Antiquarian Booksellers Association), ILAB (International League of Antiquarian Booksellers) and the PBFA (Provincial Book Fairs Association) - professional bodies for the antiquarian book trade, abiding by their codes of practice and exhibiting at several large national and regional book fairs each year. From customers in the UK we accept. For customers from the rest of the world we accept.
All books are expertly wrapped, dispatched via national and international postal or courier services, and fully insured from our door to yours.