When Slavery and Rebellion Are Destroyed A Michigan Woman's Civil War Journ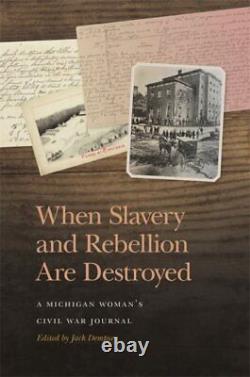 The voices of rural midwestern women are missing from the relatively new field of Civil War-era women's history. This growing literature has focused on women of the Confederacy, and the voice of northern women traditionally only subsumes those in urban settings or of the middleclass who participated in aid societies. Rural northern women, especially from the Midwest, are largely absent from scholarly publications. When Slavery and Rebellion Are Destroyed makes a groundbreaking contribution to the comprehension of gender issues by making an extensive collection of intimate letters between Ellen Preston Woodworth and her husband, Samuel, accessible to the scholarly field and all readers interested in the Civil War, homefront challenges, military family struggles, and gender roles.
The journal collection of this correspondence invites comparison between Ellen's encounters with Indigenous peoples in her rural, recently settled community and Samuel's experiences with AfricanAmericans in the Deep South-unique in such a collection of letters. Wife and husband also delve into spiritual matters as they confront their lengthy separation. Scholars will find value in Samuel's service in a "construction battalion" that is frequently in harm's way.
The national struggle over slavery and freedom becomes personal for this couple and is revealed powerfully to the reader.