Coffin FOUR YEARS OF FIGHTING 1866 Civil War Correspondent 5th edn, VG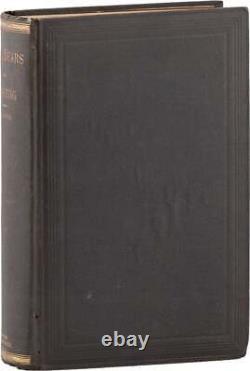 Four Years of Fighting: A Volume of Personal Observation with the Army and Navy, from the First Battle of Bull Run to the Fall of Richmond. Author: COFFIN, Charles Carleton Title: Four Years of Fighting: A Volume of Personal Observation with the Army and Navy, from the First Battle of Bull Run to the Fall of Richmond Publication: Boston: Ticknor and Fields, 1866.
Brown cloth titled in gilt on spine; chocolate brown coated endpapers; [xvi], 558pp; steel engraved frontispiece, 8 inserted wood engravings, additional in-text illustrations. A firm copy with minor shelf wear: small perforations to cloth over front joint, corners bumped, occasional foxing to page edges: Very Good. "Coffin, a gifted writer and non-military observer, compiled this superior travelogue during his extensive travels in both theaters; very heavy on social scenes" (Nevins). Eicher adds that Coffin was the war correspondent for the Boston Journal, a field journalist of above average ability. " In addition to "the usual story" of the start of the war, Coffin also "describes a visit to Fort McHenry, the attitudes of Baltimore women toward those with Northern sentiment, and the drama of officers and troops organizing around Washington.
" The work also "traces the author's journeys and follows anecdotes he interjects, often with humor, to illustrate episodes of the war: First Bull Run, stories of the 2d Maine Infantry, a visit to Annapolis, the state of affairs in Missouri, Mill Spring, the rise of the slavery question as a military factor, Forts Henry and DOnelson, the invasions of Maryland and Kentucky, Fredericksburg, Chancellorsville, Gettysburg, the Wilderness campaign, Sherman's movements, scenes in Savannah, the fall of Richmond, and surrender. 71 (citing a later reprint). Lorne Bair Rare Books, ABAA.
We are one of the country's leading specialists in the history, literature and art of American social movements. Over 25,000 items in-stock in the heart of Virginia's Shenandoah Valley. Our items are described using AB Bookman standards - the standard grading terms of the trade, originally promulgated by the trade publication The Antiquarian Bookman's Weekly back in 1949.
We tend to be conservative in our grading, but even the best booksellers make an occasional mistake. Thus, we offer the following guarantee: All items will be received as advertised and in the condition described. Any item is returnable for any reason within 30 days of receipt (prior notice appreciated). We are members of the ABAA (Antiquarian Booksellers Association of America) and the Independent Online Booksellers Association (IOBA), and we adhere to these associations' strict ethical guidelines and conditions of sale.
We leave feedback for buyers once they have posted feedback for us. Our priority is to make customers happy and to resolve problems as promptly as possible. This listing was created by Bibliopolis.