1922 collection LITTLE WOMEN Civil War COMPLETE SET Men Works LOUISA MAY ALCOTT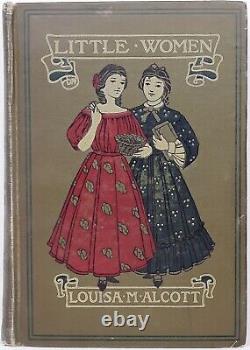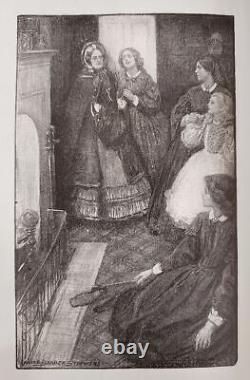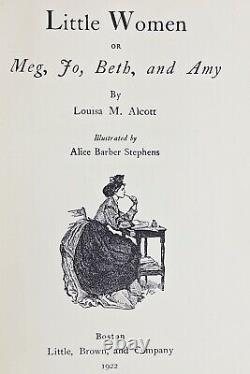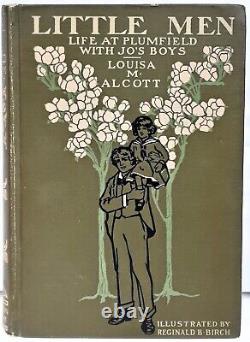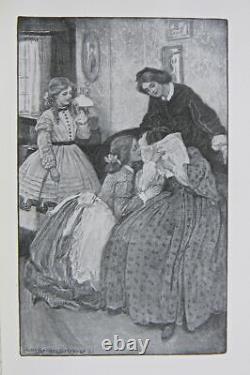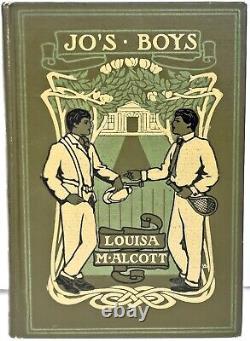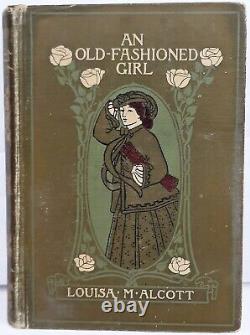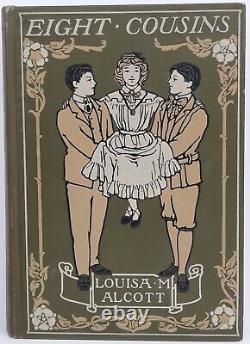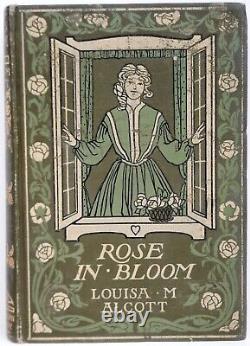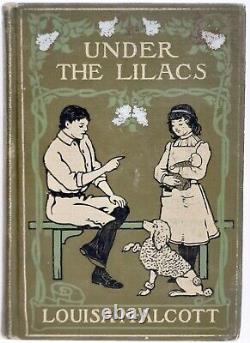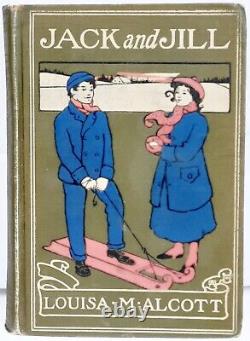 C O L L E C T I O N. MEG, JO, BETH AND AMY. T his sale is for an original COMPLETE SET of. EIGHT LOUISA MAY ALCOTT BOOKS. 1922 edition of " LITTLE WOMEN , ". YOU'LL LOVE THESE BOOKS!! Little Women tells the story of the lives and loves of four sisters growing up during the American Civil War. Based on Louisa May Alcott's childhood, this lively portrait of nineteenth-century family life possesses a lasting vitality that has endeared it to generations of readers. Originally p ublished in two parts, Part I of LITTLE WOMEN first appeared in October 1868 and was followed by Part II in 1 869. T hrough their dreams, plays, pranks, letters, illnesses, and courtships, women of all ages have become a part of this remarkable family and have felt the deep sadness when Meg leaves the circle of sisters to be married at the end of Part 1. Little Women is the story of The Marches, a family used to hard toil and suffering. Although Father March is away with the Union armies, the sisters Meg, Jo, Amy and Beth keep in high spirits with their mother, affectionately named Marmee. Their friendly gift of a Christmas holiday breakfast to a neighboring family is an act of generosity rewarded with wealthy Mr. Laurence's gift of a surprise Christmas feast.
However, despite their efforts to be good, the girls show faults: the pretty Meg becomes discontented with the children she teaches; boyish Jo loses her temper regularly; while the golden-haired schoolgirl Amy is inclined towards affectation. However, Beth, who keeps the house is always kind and gentle. The novel tells of their progress into young womanhood with the additional strains of romance. This is the story of their growing maturity and wisdom and the search for the contentedness of family life. P art two, or Part Second, also known as Good Wives, follows the March sisters into adulthood and their respective marriages.
The critical reception of PART I was overwhelmingly positive; critics soon began calling the new novel a classic. Readers clamored for a second volume that would bring about a marriage between the main character Jo, and her childhood friend, Laurie. Alcott received many letters and even visitors at her Concord home, asking for a sequel.
In response to this demand, Alcott wrote a second part, entitled Good Wives, which was published in 1869. The second part picks up three years after the events in the last chapter of the first part ("Aunt March Settles The Question"). B oth parts were eventually called. Little Women or Meg, Jo, Beth and Amy.
While resisting the popular demand to see Jo and Laurie wed, Alcott did write marriages for three of the March sisters. In 1880, the two parts were combined into one volume, and have been published as such in the United States ever since. It has become a much loved classic tale and many of the trials of the sisters are all too relevant today as evidenced by its continued following.
"Little Women" is one of the best loved books of all time. 1922 LITTLE WOMEN illustrated by ALICE BARBER STEPHENS. 1914 LITTLE MEN illustrated by REGINALD B. Illustrated by ELLEN WETHERALD AHRENS. Illustrated by JESSIE WILCOX SMITH.
They are all in GOOD+ or better CONDITION with all pages present and tightly bound, as pictured. T his is a very nice RARE!!!
GET IT WHILE YOU CAN!! Please see our other books too!